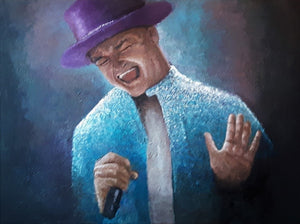 MARSHALL, Joe Foster - Gord Downey 36x48"Oil
''I have been creating and training in art for the past twenty years and have sought out the best teachers available to me. My first instructor Douglas A. Manning did not allow me to use colour for four years but instead concentrated on drawing, value, composition and the craft of creating art. After this I moved onto pastels and had success with my wildlife paintings rendered in pastel.
Wildlife painting was my focus for several years until the urge to create portraits and figure paintings in oil took hold of my soul. My first mentor had passed away and I soon fell under the guidance of Kavin Chan who introduced me to Soviet Impressionism as well as Russian painters such as Ilya Repin who has quickly became my favourite painter to date.
Painting from life has become vital to me and I take part in the training activity as much as possible for there is no better tool to train your eye than to study the model in natural light before a camera has distorted both the colour and the dimensions. In order to work with photos, I believe an artist should first school themselves in working from life so they are more able to recognize the camera's shortcomings.
Currently my interest is in the diminishing rural environment in which I live. I've been creating this work in a style that suggests the disappearance of open space and the rural lifestyle by using running paint and partial images. I will continue to create and learn all of my life. Art is one of those few subjects in life were the more you learn the more you realize you need to learn.''