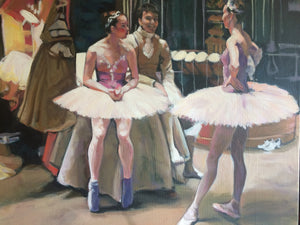 LOVELACE, Shannon - 3 Dancers in the Wings, Sleeping Beauty - 16x20" 
Three young dancers from the Corps de Ballet share a moment in the wings. In the background on the left ,a temporary "quick change" dressing room has been set up and a costume from "Waltz" hangs on the door. 
Shannon Lovelace
Shannon is a member of Mentoring Artists for Women's Arts and The American Portrait Society.  She graduated with a BFA in 1980 from University of Manitoba, completing her final year as a visiting student at Concordia University of Montreal, PQ.  She turned her passion for the visual arts and dance into a successful career, working with the Royal Winnipeg Ballet since 1993 as milliner, decorator, and dyer. Most recently Shannon designed two full length ballets: Butterfly in 2001 and Sleeping Beauty in 2002.  Shannon has also worked with movie productions as design illustrator, sketch artist, and costumer.
 She has won numerous awards including the Thorne Ernst & Whinney scholarship and has been included in many juried arts shows across Canada and abroad.  
Her paintings and portraits are in collections across Canada and abroad including Wood Gundy, KPMG LLP, the office of Senator Janice Johnston, CP. Calgary, Alberta and Bennett Jones LLP,Calgary, Alberta.  
Shannon's work combines a sophisticated spatial and color sensitivity with a respect for traditional figurative technique.
Quote
Each image represents more than just a circumstance, more than just a moment of life. For me, each of the images reflects a human experience. Each displays a component of our lives that can stay with us forever in our consciousness, even though the environment in which they were presented is well behind us and will shortly be lost forever. Art allows us to preserve these moments. And it allows us to share the moments with others.
Shannon Lovelace