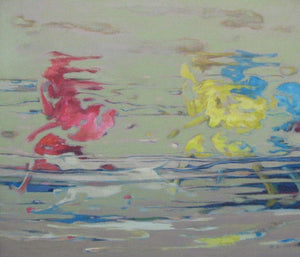 Liu Ann- Catch Me if You Can - 40X50" - Oil on linen canvas
from the series known as "child somniloquy".
Somniloquy is defined as "dreams of a childhood".      
Over the years this series of Liu has been so successful.   I remember watching people in the gallery taken to tears as they took in the image of one of these paintings.
 In conversation with Liu An
Engaging in art is my childhood dream; when I grow up, art becomes my faith. The painting and literature are forms that I express my mind. I think that the inspiration form the painters' works has no relation with this painter's popularity and the art resume is unreliable. So I have never participated activities in any circles, political activities and promotions, because they have no relation with my art.
 I am not a person pursuing power and wealth by intention. Today, I have seen too many endless disputes in this world. Therefore I want to concentrate my energy on art.  My persistent love of art as I believe echoes from the very nature that is most akin to human nature. Perhaps,  I am the person who relies on self-confidence to exhibit in both adverse or favorable conditions.   If we say that Cezanne paints with his eyes, Seurat with his brain, Rousseau on imagination and Van Gogh with the heart; I paint with my emotion that is intense, naked and hot.  The person owning such compassion is naturally looking forward to the vivid sensual living and most definitely the humanistic.
The path that I have chosen will be walked by many in the future.
That our descendants often fail to learn from the past is also an injustice of our generation.
 If this world has forgiven our relentless pursuit of money, I hope that it can tolerate art as love…
 More – In conversation with Liu An
To painters, converting true emotion to art is an enjoyment in their experiences. It echoes my view of art. Keep this in mind and abandon any distracting thoughts. Then these days will be a vigorous period of the artistic living. At this moment, my comprehension in the essence of art is from my realization of that deep connotation of eastern art… Instantly, I come back to the reality and begin to confront all kinds of difficulties with ease. This is not human instinct but a divine favour.
That turning from dark to bright is the evolution of times. Even in the present age there is still a group of painters living in the dark. But, I have not.