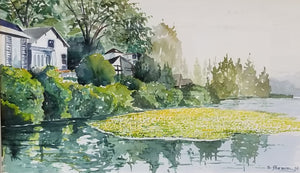 Artwork by Samir Ghanem - Watercolour on Arches - Size: 1/2 sheet
Samir's unique expressionistic style, depicts Canadian landscapes using oils and watercolors. He has produced thousands of paintings that have been regarded as collectibles by many art enthusiasts. 
BIOGRAPHICAL NOTE:
Samir Ghanem is a successful professional artist of international standing who maintains a studio in the City of Ottawa. His career as a leading exponent of contemporary Canadian visual art spans three decades. Since emigrating from his native Lebanon in 1975, Ghanem has dedicated himself to the interpretation in oils and watercolours of the natural landscape of Canada and also the human dimension in nature. His works are prominently displayed in private and institutional collections on four continents.
. 
Notes Biographiques :
Samir Ghanem est un artiste professionnel qui a très bien réussi et jouit d'une réputation internationale. Il travaille à partir de son studio à Ottawa. Sa carrière, comme un des principaux interprètes de l'art visuel canadien contemporain, s'étend sur trois décennies. Il a émigré de son pays natal, le Liban, en 1975 et s'est dès lors consacré à l'interprétation, à l'huile et à l'aquarelle, du paysage naturel du Canada et de la dimension humaine dans la nature. Ses œuvres sont exposées principalement dans des collections privées et institutionnelles dans quatre continents.