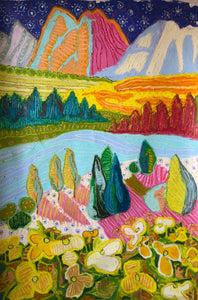 FERST, Jeff - Rocky Mountain Valley - 36x24" - mixed media on canvas

The abstract works of Jeff Ferst have often been described as "life-affirming" and "juicy".He paints fluid, tactile and emotional works, drawing upon architectural and sensory experiences he interacts with daily. Ferst pulls his mind away from these traditional landscapes and objects and turns them into geometric shapes constructed in plush textures and vibrant colours. For the viewer, the images are not at first recognizable. "After closer scrutiny, one can see the physical—buildings, plots of land, trees, lawns and open spaces, congested city cores, vast sky… then emotional—nothingness, joy, celebration, anger. And sometimes the images blend together so that the physical spaces and emotional experiences are as one."After Ferst completed a prestigious degree from New York University's Fine Arts Department, he gave up his fast-paced New York City lifestyle for a more relaxing one in Cambridge, Ontario. He has gone on to become a recognizable artist and win awards for the craft which he desires so much to do. 

fyi - This is one of my favorite artists.
Call 613-818-0158 for more information.