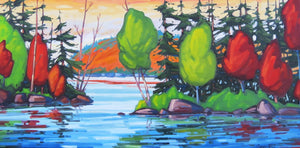 Artwork by Raymond Caouette.   Medium: Oil on Canvas      Size: 34x64"

Born in Rouyn-Noranda, Abitibi in 1958, Raymond Caouette is the youngest of a family of four sons. A self-taught painter, he became interested in drawing at a very young age, and quickly mastered the artistic techniques that would be the basis for his distinctive style: vivid colours and bold brush strokes representing vast natural landscapes. 
 He grew up surrounded by lakes and trees and is profoundly touched by nature. Since 1979 he has painted the landscapes of the Abitibi, Charlevoix, regions of the province of Quebec, the Outaouais Region, and most recently the Western Rocky Mountains. 
 Over the last several years, he has had numerous exhibitions and has received awards and recognition for his work.  He continues to teach art to others, while persevering in his efforts to perfect his own technique.   Appreciated by an ever growing public, Raymond Caouette's work is found in numerous private and corporate collections throughout North America.   The artist visits Ottawa every two months and paints live in the gallery in Chelsea.
Come by and meet him during his visits.